Costa Ballena (Dominical – Uvita – Ojochal)
Costa Ballena Costa Rica is a region found in the Southern Zone on the Pacific side of Costa Rica. It boasts unique rugged landscapes and tropical jungles to explore, along with pristine beaches, waterfalls, and wildlife galore. The longer you stay, the longer you won't want to leave. Costa Ballena is Costa Rica's best kept secret.
Costa Ballena is comprised of three main towns, from North to South they are: Dominical, Uvita, and Ojochal.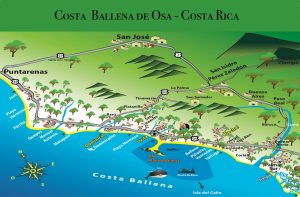 Dominical
The first town you will hit when you reach the coast is Dominical and is about a three-hour drive from San Jose. Dominical is known as a beatnik town where surfers and hippies congregate. Most famous for its surf break, consistent waves are found in Dominical year-round. More recently, a revival has taken place and many new small shops and restaurants line the eclectic town's streets. Fridays, from 8 to noon, a Farmers' Market is held at Pueblo Del Rio (25 meters towards the beach after the entrance). Saturday nights are when the town comes to life. Located beach front, it is a small town with a "Pura Vida" vibe.
Uvita
Uvita is located further south and is considered the hub of Costa Ballena. There are many shops, grocery stores, essential services, banks, salons, pharmacies, hardware store, anything you need can either be found in Uvita or delivered there. Many tours depart from Uvita and this is where direct buses stop and transfer in the area. Bahía, a neighbouring town, which some do not even know where it begins and Uvita ends, is home to the famous natural reef barrier, the Whale's Tail. The entrance to walk the length of the tombolo is via the Parque Nacional Marino Ballena, which is located in Bahía. Farmers markets are held at Rincon de Uvita Saturdays from 8 until noon.
Ojochal
Ojochal is the town found at the most southern region of Costa Ballena and is renowned for being home to many expatriates during the cold months of North American winters. Popular among French Canadians, it is a quaint small town with a river that runs through it. There are many excellent dining options – it is definitely a culinary destination!