If you're putting off traveling to Costa Rica during the rainy season (also known as the green season) you're missing out on the best time to visit. Costa Rica is beautiful this time of year, misconception is that it rains all the time, but that's not true.
During the rainy season, mornings are usually sunny, and by around 1 or 2 p.m. the rain clouds pass over and it pours. It really pours, and it's quite the experience. Now, if you wake up to rain, not to worry, the majority of time the sun will come out in the afternoon. As someone living in Costa Rica, I can get all my errands done in the morning, and by the time it starts to rain, I'm home relaxing sipping on my coffee.
So what are the "seasons"? The rainy season is our "winter" months; it runs from May through November. The dry season, our "summer" months, runs from December through April, and is hot, very hot!
Here are some reasons why you should consider visiting during the rainy season:
So lush – Everything transforms to beautiful vibrant colours this time of year. The jungle becomes lush and the flowers begin to bloom. Birds, butterflies and hummingbirds are everywhere. And my favourite sight at Nature's Edge Cabinas is when the rain blends with the forest; you can see the fog rise over the trees giving the scenery another look.
Great prices – It's easy to find or negotiate reduced rates. With fewer tourists, you can get great deals on tours, parks, car rentals, restaurants, and not to mention flights; airlines have amazing deals during this time of year! Oh and of course, Nature's Edge Cabinas offers great discounted deals during the rainy season.
Fewer Tourists – Yeah I know I said it above, but I can't say it enough. With fewer tourists you have that perfect isolated beach all to yourself, and the national parks and sights have little to no crowds.
Comfortable temperature – hot but not too hot – Temperatures feel slightly cooler due to the moisture, which is a nice break especially at the beach where temps can climb into the 90s°F (32°C). And your skin will thank you!
The whales come at the peak of the rainy season – Although whales are seen from mid-July to mid-November, the best time for whale watching in Uvita and Dominical is during September and October.
Don't get me wrong, I love the summer months and the heat, but the summer months (December – April) bring crowds and the tourism industry operating at full tilt. Great for us hotels! But as a tourist, consider; prices are higher, attractions are more crowded, and hotel or restaurant reservations need to be made well in advance.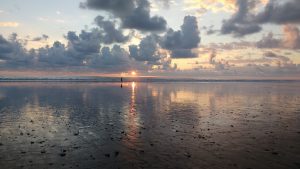 Whether rainy or dry, Costa Rica is a beautiful country that is to be enjoyed all year round. But it is the rainfall that makes Costa Rica so lush and beautiful – so don't miss it.